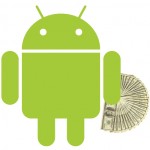 A lot of people says that there is no real money in the Android development. They say that if you want to make money you should write for iPhone, iPad and all other iThings... This is not true! I am not a one of guys that is making thousands of dollars but my income seems to be steady and is still growing.
Moreover I am not one of top developers nor any of my apps have been promoted by Android Market. I am just an one among of thousands of Android developers with not to well known apps. And what may be really surprising all my apps are free as Google do not allow developers from my country (Poland) to sell apps via Android Market!
So keep in mind these facts:
None of my apps has been ever promoted in Top of Android Market
I am providing only free apps (mostly due of Android Market limitations)
Even if I would be able to sell apps I would not use it as main income source... (I believe that you still can make more from ads...)
All my income comes from ads that are included in my mobile apps for Android. Here is the list with current number of downloads:
I have started to learn Android Development on April 2010. My first application was ready to be published on May. And it bring me first few dollars... I was not satisfied as I have been expecting that this app (WP Stats) will be really popular... Unfortunately it wasn't... Anyway I have published a few more apps that got a lot more popularity... So here is my total income breakdown:
[...

Post part no available for public viewing!To view this content please LOG IN.

You may create new account by purchase of
"Make Money on Android" eBook.
...]
October looks to be lower in earning but it happened only because I have not been updating any of my apps in this month (I have been moving to new house and had no time for it...).
So as you may see income has not been high on the begging but with each month with regular updates and new apps it has been growing very rapidly!
And I will say it again... I have not made a single cent from selling apps - all my income is only from ads. This month I am preparing new updates for my apps and I am finalizing some new ideas... so my income should start growing up again...
All comments are welcome and very desired. For more details you may want to check my eBook.