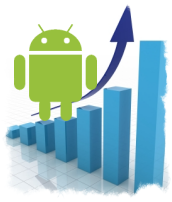 As stated in my previous income report my earnings from Android apps development is getting much higher. Mostly because of last discovered method of increasing app visibility that has been described in last update of my eBook. As you may read in lastly published post called "Android Success Stories" and in many comments under my income reports and other posts about my eBook - that methods really works! This time I will sum up all my income made on September 2011. As you may see it is another great month. Let's start!
September Income Summary
[...

Post part no available for public viewing!To view this content please LOG IN.

You may create new account by purchase of
"Make Money on Android" eBook.
...]
It looks that in total in the month of September 2011 my income was ...[PLEASE
LOG IN
TO READ]...!
So it looks that I have correctly chosen income streams that should be taken care the most! I am slowly giving up the ones that are not as profitable and moving mostly to Android! It is another monthly record beaten! And as mentioned before it is not my last word as the income from Android apps will be even higher next month! So I can say it again. It was my best month ever!
What's next?
I am working on updates to my current apps and new apps are almost ready to be published. In my previous plans I have been thinning about writing apps for iOS. I have even bought the Macbook. Now I am thinking about giving that idea up and my Macbook will be for sale soon. I have decided to be more focused on Android platform and in future I will consider outsourcing my apps to be moved to iOS.
I need your support!
If you want to keep me writing my next income reports I need your support! I would be very glad if you could spread this article everywhere where you can. Up-vote it on HN, Reddit. Share it on twitter and Facebook! I need as much attention as possible! Popularity made me some problems and only stronger popularity may overcome it... Thank you and stay with me via RSS, Facebook or twitter channels!