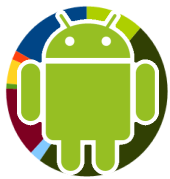 It is over one year since I gave up my day job to become an independent developer (It is more than a year but I have missed a few reports so I will sum 12 months that has been reported on this blog). All my projects that generate any money has been build by me with a little help of some freelancers. All has been done on my own schedule without any boss complaining or some crazy deadlines. Some of you are reading my reports from the beginning and some of you are here for the first time. I believe that this annual report will be very interesting for all of you. I will make a two sections. One where I will spilt all my income by months and another where I will sum all sources of income from last 12 reports.
Middle of the year report...?
Usually most annual reports are done on the beginning of the year - but as it is first year on my own and I have just published my 12 report, it seems a very good time to sum it all up. So lets see what the result will be. As many of you may know I have been making money on many things - but all has happened online. My income sources varies from Android Development, web development to stock photography production. So area of my income streams is very wide.
The best month was...?
Let's start from the summary of the months. Here is the breakdown from my previous reports:
[...

Post part no available for public viewing!To view this content please LOG IN.

You may create new account by purchase of
"Make Money on Android" eBook.
...]
Unfortunately I have not been making reports each month so I can not sum up my first year from those. June and July 2011 has been published in one report and some data has been missed on 2010 as I have reported only Android ads income. As I do not want to bother my accountant to give me those details that is all that can be summed from this blog.
As you may see my best month seems to be May 2010. But as I have mentioned it was one time income boost because I have sold some websites that has not been generating income at all (but the buyers liked the idea of the websites). Later I have been trying to build some passive income streams and it looks that I am somewhere near ...[PLEASE LOG IN TO READ]... per month just from those. So it looks quite good. My first income goal stated in report #0 of ...[PLEASE LOG IN TO READ]... per month have been reached.
Most profitable was...
Now I will try to sum up all of my income streams to see which one was most profitable. As you already know I am trying to make most of money passively just by building new and improving current income streams. If I would stop working from now I would probably be still generating some good income each month for next year or so.
In summary I have not included report #4 as it have included only Android apps income. To make full 12 months I have added report #13 so it makes a good comparison for a full year.
Let's see the list from lowest to highest money maker:
[...

Post part no available for public viewing!To view this content please LOG IN.

You may create new account by purchase of
"Make Money on Android" eBook.
...]
Here is a comparison graph: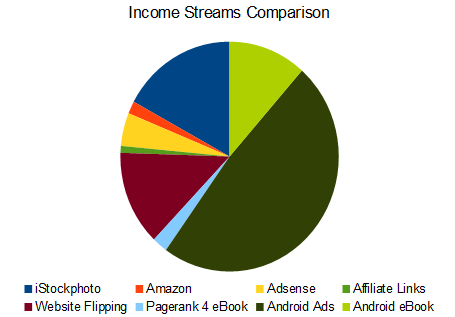 As you may read from the graph almost a half of my total income comes from ads in my Android applications. But the other smaller income streams seconds that. I am spending most time on increasing Android apps income but as you may see it is good to have some other smaller projects ongoing.
Another point of view...
To see even more I have decided to prepare one more graph. It shows income of each month with breakdown to all income streams. Unfortunately it shows that my income is not growing but is quite steady. But what is even more interesting it shows that some income streams are being replaced by others. Let's have a look:
[...

Post part no available for public viewing!To view this content please LOG IN.

You may create new account by purchase of
"Make Money on Android" eBook.
...]
As I have mentioned before I have given up website flipping. Not sure if it was good decision when I look on the graph - but it was not enough passive for me. I am hardly working to keep those steady streams that needs less work. It looks I should really care now only about my Android applications and iStockphoto. What is looking really promising now are sales of my "Make Money on Android" eBook. It looks that I should look for some new channels of distribution (now it is being sold only on my blog).
My goals...?
My next goal is to double my income in next 12 reports. It would be really good to make something between ...[PLEASE LOG IN TO READ]... per month and live in Poland. It is much above average and is more than enough to pay all bills and live comfortably and save some money each month (average salary in my country is about $1,000).
I am going to a achieve it by improving three of my income streams. In coming months I am going to work more by:
Building new Android Applications & looking for new monetization methods of my current ones
Making some new photos and submitting those to my iStockphoto portfolio
Looking for new distribution channels for my eBook "Make Money on Android"
Of course I am not going to do same things for a whole year. I should add to the list looking for new business opportunities that may be found online each day. What I should really give up is freelancing as in current business model I am hiring more that being hired.
Conclusion?
And now the most interesting number. How much in total have I managed to make in 12 months that has been summed here? In total I have generated ...[PLEASE LOG IN TO READ]...! Of course that does not include my expenses and taxes. But those are different for each country. In my previous day job in same time I would generate about $10,000.00. My online business gave me ...[PLEASE LOG IN TO READ]... and a lot more of free time for myself and my family!
It is hard to compare my income to most of guru that are writing about their income on their blogs. Anyway I believe it is just the beginning of my path to the success. Moreover money I am making now are enough to pay my bills and not work full-time in my country. That gives me a lot of time for building and improving my online income.
As usual comments are welcome and strongly desired!