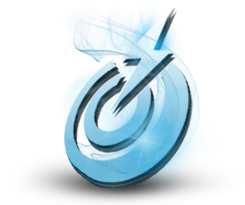 As most of you know Google have changed their policy lastly. They have enforced advertisers to follow their rules. Most importantly if you want to use notification or icon ads in your app you must display opt in/opt out information. Without it your app may be removed from listing for breaking Google Play Developer Program policy.
Fortunately most ads providers (LeadBolt in my case) have provided new SDK libraries that comply with those rules. Previously, all users who downloaded your app - had notification ads enabled by default. With new SDK users are politely asked to opt in for icon and notification ads. They may accept to see your ads or not... It is obvious it made an impact on the number of ads displayed. Many of you are wondering is it still worth to use notification/icon ads? I will try to reply to this question in this post.
In my analysis I will use data from my LeadBolt and Admob accounts. I have referred to LeadBolt over seventy users and I see one percent of their earnings as my affiliate commission. Moreover my apps on LeadBolt have about 3 million ads impressions per month that will be compared to same period with AdMob income. Those data let me to see trends based on bigger developers base and compare it to other revenue stream from same apps.
Referral income
Currently I have 72 active publishers referred under my account. On 1st September I had 62 referrers so my income should increase. Unfortunately it didn't. The chart below shows 1% of income generated by all my referrals since 1st September till yesterday. As you may see the trend is lowering.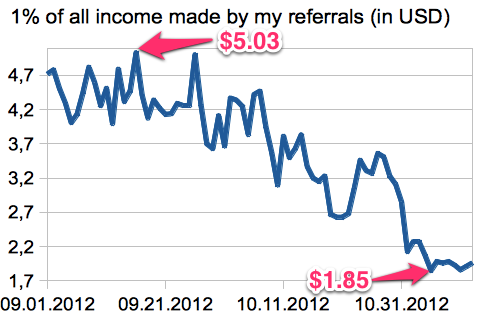 As you may see in the peak time I made $5.03 (it means that referrals have generated $503.00 on that day). Lastly my daily revenue for referrals have fallen to $1.85 ($185.00 generated by referrals). It is even better visible on my monthly affiliate referral earnings:

As it is almost half of the month my November revenue will be about $50.00. It may be caused by two factors:
App user base is shrinking due of new policy
Publishers are removing LeadBolt SDK
It is hard to tell which reason is stronger. So to see the situation even better let's check my personal stats.
My income
Here is the chart with my daily income changes. It compares LeadBolt with banner ads from the same apps. I will not publish my income numbers but the total trend graph.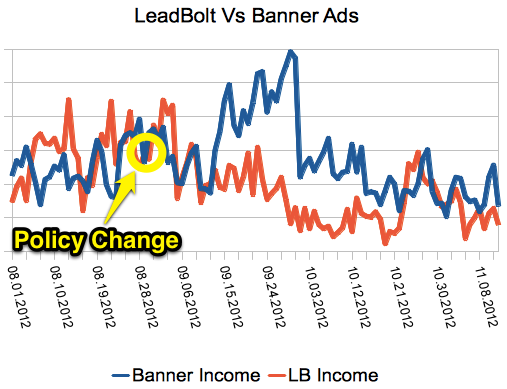 I have circled the date when the new Google Policy came into effect. As you may see on the chart shortly after that day, LeadBolt income have slightly dropped. Banner ads had a peak on the same time. But lastly, surprisingly it looks that trends of both are getting very close. It seems that users are getting used to new "policy pop-up" on my apps and more of them are accepting it. Moreover in last month (10.12.2012 - 11.12.2012) the LB income is getting pretty stable and on the same level as banner ads.
Conclusion
Just after new Google Policy came into effect - notification ads income have dropped. It is visible on my total referral income as it is represented by over seventy persons. Anyway it still doubles my banner ads earnings so it makes me earn twice as much from the ads! I have always been pretty satisfied from what I make on banners - but making twice of that sounds even better.
And what about you? What is your trend? Are you going to keep notification/icon ads? Please share in the comments!