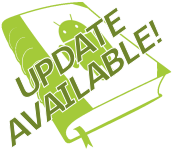 Just as promised I have prepared new version of my "Make Money on Android" eBook. It is based on previous edition with a lot of content added and some edited. Subtitle has been changed to "How to make $3000.00 on free Android apps" (instead of $1500.00) as info included have easily doubled my income. Moreover newest version have 3o pages in total (instead of 20). Now I have good and bad news. Firstly the good news. Updated version of eBook is free for all who have previously purchased old edition! You just need to login with your password to my blog members area to download it! If you still do not have your password (bought eBook before I have set up login/password system), please contact me via my web form with your purchase ID. Now the bad news. If you have not previously bought my eBook the new price is $29.95 (instead of $19.99). Anyway as you may see in comments on the purchase page it is worth the price!
If you are wondering what new may be found on the eBook - here is the summary:
New monetization methods for you free Android apps (double your current income!)
How to make more money without ADs and no additional work...
Updated promotion methods chapter!
Updated income stats!
And many fixes and improvements!
If you think the price is too high you need to verify comments of current buyers again! I am not charging per page but for the knowledge that for many of other Android developers have doubled or even tripled their income! Price has been set on $29.95 to be sure that only developers who are really interested in Android development and want to invest money in their business buy it. I do not want to spread all of the info around to people who are not serious about their business.
If you are looking for more info about my eBook please visit my purchase page. All comments from readers of new eBook version are welcome and highly desired (under this post).
Good Luck!
Chris (aka KreCi)