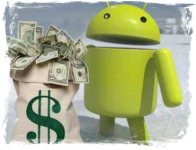 My March 2011 developer income report is here. As you will see there are no much changes but the eBook sales (one more time thank you to all of you for your great feedback!). As promised to those who already bought it I will be updating this eBook as often as I will be able to help you with new information. Email notifications will be sent so you would not miss it!
How is it going now...?
In the meantime I am making some experiments with building a brand new (not junky as some of you have commented but valuable) website. I want to gather as much search engine traffic as possible to build some steady AdSense and Amazon income. If you have not read it yet you may check my post about Building AdSense/Amazon website. As I may see it now in about a month since I started that project, the experiment was worth the effort. Update with details will be posted soon (next week).
Anything new...?
This time I will not give you too much background information as I am constantly working on same projects. I want to make all of them serious income streams or get rid of it before starting anything new. I have decided to do it such way as currently I have too much to do according to time that I can spend working. If all of my current projects will give me serious income I will hire more freelancers to help me with those. But until then I really need to do most of work by myself.
Here are my last month numbers...
So here is this what all of you are really waiting for. Summary of my last month (March 2011) income stream. As usual I will post the number with difference to the previous month.
[...

Post part no available for public viewing!To view this content please LOG IN.

You may create new account by purchase of
"Make Money on Android" eBook.
...]
In total in March I have earned ...[PLEASE
LOG IN
TO READ]... So it looks to be one of my best months! March does not seem to special as this is just one of ordinary months without any holidays. But it might be the case that people were to bored with they daily duties and they have been searching some fun in the Android applications.
What are my future plans...?
As I have been writing on the beginning of this post I am still working on my current projects. I am adding a lot of new posts to my Android Tablets blog and two other experimental websites that I do not want to go public on this blog yet. You may expect the report from my works the next week.
I still have in plans and have started some new Android applications and one is in work for the iPhone. But still have not enough time to finish all of it. I am trying to work hard and still have some time for my wife and my kid (You may be very surprised as I have not mentioned it before but I have a pretty 2 years old girl).
I am in doubt if I should continue sharing my income reports as some of the people has copied my ideas and done exactly same applications/websites. I love to inspire people as I have described in my previous report. But I hate when someone steals my work... So in such situation pros of sharing my knowledge are strongly undervalued by cons. If you want to support me in writing my income reports please share my story wherever you can (twitter, Facebook, HN, Reddit, delicious and so on...). I will be really glad for it!
Conclusion...?
Working at home is not as easy as it may seem as you have much more other things in your head that often sounds a lot more interesting than a work. But as you may see from the numbers I have almost tripled my monthly day job earnings! So I am on the path that I wanted to go when I have stared writing my income reports.
If you still want to be updated about my successes or failures... Please subscribe my RSS Feed, follow twitter or Facebook account! All comments are very welcome and strongly desired!