March is almost over so it is a high time to sum up all me income from February. In February I have spent a lot of time to start my new projects like my eBook "Make Money on Android" and iPhone applications. The first one has been finished and have already generated some income in last days of previous month. Moreover I am very happy for your great feedback about my eBook (please give me more!). The second one is still work in progress and I will have some work to be done and a lot of things to learn before building income from it.
How is it in total...?
Unfortunately spending  a lot of time on new projects had negatively affected my current income stream. My Android applications have generated a lower income than usual. Fortunately it is looking much better in March (you will be able to see it with my next report). I will not write about it a lot as you will see everything in the numbers that are the best way for showing all income trends.
Inspiring other people...
As one of main purposes of blogging about my income was to show to others that they can do the same! I am proud and very happy to let you know that my posts was not only some interesting reading for a few people. In this place I would like to introduce you one of my readers - Pawel Bialecki (BTW he was one of the winners of free copy of my eBook). He is writing his blog in Polish so I will just write a little summary here.
He has decided to write a summary of January 2011. He has written there that my blog has inspired him to write some Android applications and he hopes that those will let him make some money. He has not planned what his income level may be as the previous applications added by him to the Android Market has not bee too successful.
In the February report he has shared the information that he has generated $1080.07 from his free application just with the ads! With a daily record of $91.61 (see the attached graph below).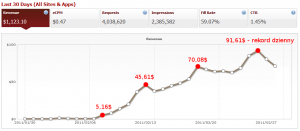 He has not yet shared his March report as this month is not finished yet but you can see in his post from 9th of March that he has already generated a sum close to $2000.00! He has posted this screenshot from his earnings: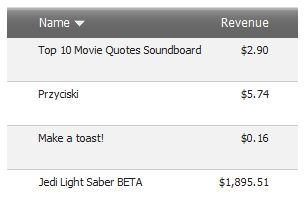 So as you may see I am not just a one guy that had some luck! The success may be repeated and may be a way higher as he has earned on Android free apps more than I did! In this place I just wish a good luck to Pawel! I am waiting for your March income report as it is supposed to look very interesting. You may follow Pawel on his blog (if you don't know Polish Google Translate may be helpful...).
So here are my numbers...
As usual I will write about all my income sources from lowest to highest with a difference to last month. So here are the numbers:
[...

Post part no available for public viewing!To view this content please LOG IN.

You may create new account by purchase of
"Make Money on Android" eBook.
...]
In total in February I have generated ...[PLEASE
LOG IN
TO READ]... So as you may see my Android applications income has dropped a little but thanks of building multiple income streams my total is even higher than in previous month! And what is best my March Android income is back to normal plus new projects still generating revenue!
So what about future...?
Last month I have finished my eBook that has took me quite much of time. So I have finished that project but it is still consuming some of my times as I am going to keep this book updated and actual. I am still working on one new Android application plus I am slowly submitting my current apps to other Android markets (I will post about it later).
Besides Android I am still learning iPhone apps development and I am going to release my application for iPhones in next months. Besides I am doing some experiments in building niche websites that would bring me a few bucks (thanks to freelancers as I am not able to maintain all of those things at once). So there is still a lot of work to be done and so little time...
Anyway if you are still interested in my income building adventures as an independent developer - stay with me to read my next report in about a month! So if you still have not seen my Facebook page or twitter account… or even my old-fashioned RSS feed you are welcome to bookmark them!