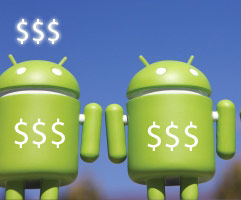 It is high time for my another income report. I used to write my total developer income reports (last one "Gave up a day job! Now what? – Income report #3") and last month I have summed my "Android Income Report" (not included previously). As I am switching mostly to Android application development I have decided to write just a one total report. So here it is! My "Developer Income Report #5".
So how is it going now...?
My income got a little steady. This happed because I have been moving to new house and had very little time to work on all my projects. So it is not growing so rapidly anymore. Anyway there is still one amazing thing! I have been working just a little to keep the things going and I still made quite a nice income!
Show me the money...!
So here is my total income report for month November 2010. As usual I will start my list from lowest income source to the highest one:
[...

Post part no available for public viewing!To view this content please LOG IN.

You may create new account by purchase of
"Make Money on Android" eBook.
...]
Not bad for an income in "lazy month". I have not started any new project and all income has been generated from my currently running websites and applications. All work involved was just maintaining the websites with a few updates and fixing some bugs in my applications. So in total I have earned ...[PLEASE
LOG IN
TO READ]... more than I have been making in a day job (in Poland)!
What about future plans…?
I have started working on another Android application and I am going to make an Android my main income source. Unfortunately I am not allowed to add paid application to Android Market but as you may see the free ones can make a steady income as well. Moreover I am slowly outsourcing some of my projects (updates and content creation) via Freelancer.com (of course I will never outsource my personal blog). Outsourcing lets me keep working on things that bring real money (Android development) and not loose a lower income sources. Would you believe that you may outsource a monthly niche blog updates for as low as $30 (much more regular than I used to do personally!)?
So in coming weeks I am going to get rid of all work that is caused by smaller projects (thanks to Freelancer.com) and to focus on my main income source stream (Android). Moreover I am going to spend a lot more time working to grow my income and to make it really steady. Just wish me luck!