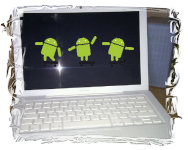 It is little late as I have been busy with some projects of mine but it is already here. My another income report. This time I will sum all my independent developer income made on January. As many of you have been expecting after Christmas time there is little slow down - especially as most of my income comes from ads. And massive investing advertisers target was December. Anyway I still have made some solid income and I am investing all my time to earn even more in future months.
My efforts has been invested to...
I have spent a lot of my time on application development. In January and February I have published two new applications on the Android Market. Moreover I have been hardly working on my new Android marketing guide eBook "Make Money on Android" that has already got some positive reviews. Thanks! Besides those I am preparing to launch and promote some web-based projects. But I will write more about those in future.
As an extra I have decided to learn what the Facebook phoneme really is as I have missed it until this month! You may check my efforts of making my Facebook page useful. Would be really happy if I see you among my fans! It looks that Facebook is even more exciting than the twitter that I really used to like. If you want to be updated with my efforts those two seems the best way to follow me.
So where is that income...?
Yeah... I know that you are here to see the money and not my Facebook page... So as usual (since last post) here is the list with the differences to my earlier report. Posted income is for January 2011. So here it is:
[...

Post part no available for public viewing!To view this content please LOG IN.

You may create new account by purchase of
"Make Money on Android" eBook.
...]
In total in January I have managed to earn ...[PLEASE
LOG IN
TO READ]... It looks that this is the truth what people say that December is really good month for people who are making most of their revenue on the advertisement. My income is lower but it is still really good comparing to my previous full-time job where I was earning about ...[PLEASE
LOG IN
TO READ]... per month and had no free time for my family.
What about future...?
Currently as mentioned I have spent some time for developing some web projects. It will still consume a lot of my time but I believe it is still worth investing. Moreover I have just published my new ebook "Make Money on Android" that will be included in my next income report. Until now it is getting really good reviews so I am planning to work on this project and expand it even more.
You should not be surprised as well that as I have mentioned in my previous income report I am preparing to bite some part of iPhone cake. I have chosen the first described previously path - buying Mac - and I have already did the first step. I have my first used Macbook - bought on internet auction for about $400! I am still learning it and hope to release my first app in month or two. Like for now I am working on emulator and looking for some old cheap (even partly broken) iPhone to make some tests on hardware.
Are you still interested in my future adventures as a brave (or stupid) independent developer that gave up his day job? If so - stay with me to read my next report in about a month (and some other uninteresting posts before it)! Just make sure you follow my Facebook page or twitter account... or even my old-fashioned RSS feed... CU!