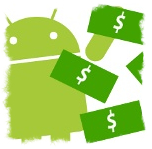 As many of you already know I am publishing my monthly income reports each month. Here is another one that will sum up the August 2011. As I have discovered some new methods to make your applications more visible on the Android Market and have updated my "Make Money on Android" eBook with this tips - my income has been much higher than on my last month averages! So both my Android ads revenue and eBook sales have been pretty well in last month. Moreover new technique has been confirmed by many of you to work really well. Here are a few quotes from one of my favourite eMails:
Most of my apps went from 1000 to 3000 downloads a day.others from 700 to 1500.
Even one app went from 1000 to 7000 downloads a day and is now an a stable 5000 downloads a day !! and is in the top 50 in the entertainment section :).
My total daily revenue is now about between 70$ - 90$.
If any one of you want to make some guest posting to share your success story I will be happy to publish it on my blog. Just let me know! I am really happy I could help with such a simple tip! Of course all my techniques are 100% legit and are just using the system the right way! I feel really good that I can share my success with all of you and make a few more additional bucks. <AUTOPROMOTION> Just if you are interested I am highly recommending you my eBook for more details. </AUTOPROMOTION>.
So lets back to the topic. As I do not have much time lastly I will just make a quick summary for all of you who are waiting for my naughty numbers :). Are you ready? So here it is!
August Income Summary

[...

Post part no available for public viewing!To view this content please LOG IN.

You may create new account by purchase of
"Make Money on Android" eBook.
...]
This month was the best from all when I have been generating only passive income! I had some close to that months when been selling websites but it was very hard and active task. Those are still growing passive income streams that gave me in total ...[PLEASE
LOG IN
TO READ]...! All made on my passive income streams that I could not even touch for a few months from now and it would still be making me quite a good money! It was my best month ever!
Now what...?
In my annual income report I have mentioned that I would like to double my average last year income. ...[PLEASE LOG IN TO READ]... With last month number I am already very close to it! Now I need to work little harder to grow my passive income streams and make them stable at this level. Hope I will be able to do it.
All your comments and emails supports me with my work and makes me want share my success even more. Please keep writing/sending those to me! In revenge I will try to write on my blog more frequently with some tips about Android Marketing and development. And now please leave your comment below...