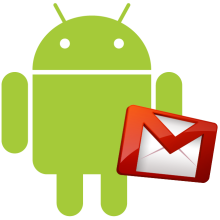 As you may know there are no many success stories written by the Android developers. Regular readers of my blog already know my success story (see my monthly Android Developer Income Reports for details). But what is main reason of not hearing much about developers making money on Android? That most of them do not write their own blogs and do not have places to share!
So today I want to share with you two short stories that I got from my loyal readers. They have briefly written their stories as a thank you messages for me. I love getting such emails and if you have your own story I would be really happy to hear from you! As this post is not about me I will just make some copy&paste (I got permission from that guys) just with a little comment from me if needed.
First story:
Here is first email that I got from a developer from India (I am still asking him to write a guest post for me - hope he will agree soon):
Hi Chris,
Basically I was following you from March and I started my Android
Development after seeing your earnings. Though I am a smartphone
geek thatswhy I wanted to create apps but with money , i was like
definite. So i Started and followed and followed. But I wasnt
able to buy your ebook due to my investment with my Development
like buying a new phone, laptop etc.

And before buying your ebook, I have already created 11 apps,
out of which 3 are succesful somewhat ( enough for me, not like
yours though) In september, I buyed your ebook on the 22nd and
implemented it that night with like 7 hours remaining for next day.

As I understood some of the key points of the ebook by researching
the market, but i wasnt sure with them. But after getting ebook,
i got sure shot.

And like on that night of 22nd september, after I implemented your
last tip, you can see in the screenshot that how my requests and
impressions grew after 22nd( i think its 50%)

Maybe you can just put this screenshot on your website in the next
blog post, If it is equivalent to your expectations.

And I would like to Thank you for your effort, and it would be
like i would have also paid 30-40$ for buying this ebook with the
new tip you added 2-3 months ago.( if i knew it can have such
an intense effect on my earnings).
And here is a screenshot attached to the email (click for the zoom):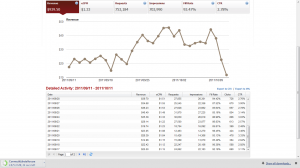 Thank you for your story and good luck with future development!
Another story:
I have heard about success of this developer from one of comments under my blog post "Developer Income Report #14". Here is the comment: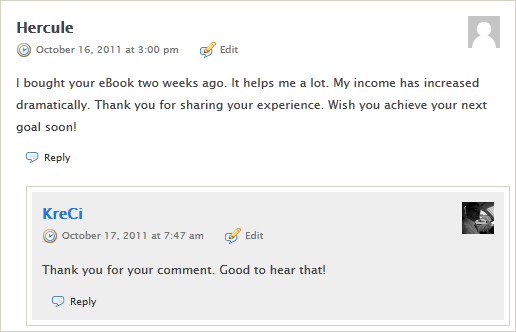 I have decided to ask him about more details via email. Here is what he has replied to me:
Hi, KreCi,

  I don't have my website right now. But I can write a brief
  story about my experiences in this email. I have been developing
  with Android since May this year. I developed three casual games
  in the beginning. However, none of them lives up to my
  expectation. Two of them have downloads less than 1000. The rest
  one is better, but the Ads CTR is pretty low (Maybe the users
  are just too concentrate on the game ). I saw your blogs a few
  months ago. I'm interested in your experiences so I bought your
  eBook. After reading the eBook, I tried to develop an
  entertainment app. Utilizing those tips you mention in the
  eBook, I uploaded the app to Android Market. To my surprise, it
  got nearly 1000 downloads on the first day and the downloads
  passed 10,000 in a week! The Ads CTR of the app is pretty good
  comparing with the other apps I made before. In last ten days,
  I earned three times as much as that in the previous three
  months! I have motivation to develop more apps now.
Looks like another successful Android developer! Congratulations!
Conclusion...?
So it looks that this is not true that there are no successful Android developers. It is rather that they do not have many places to share. If you will like this post - let me know in the comments and I will publish more emails received from other developers.
Or if you are one of such persons please leave me the message via email or comment. It will be a real pleasure to spread your success anonymously or with your name. I will be really happy to publish your story or even take a guest posts!
And one more little things... If you wish to join a club of successful Android Developers I am sure you can follow my path as that guys did! Just if you need little more help you may check my "Make Money on Android" marketing guide for Android developers! Good Luck!