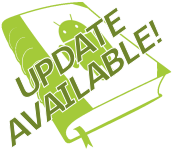 As I have promised to all my eBook readers updated version of my "Make Money on Android" marketing guide is ready. Just from now it is available in the download area for all of people who already bought it (under same link that has been provided after paying for the eBook). If you are not a one that has already decided to get it - you still have a chance.
What's new? Firstly most of my eBook has been rewritten for better language and sentence structure with help of John Mammoliti (he is still available for proofreading, English localization, and other technical services - you may use my contact form if you want to contact him). I am not native English speaker so it was really needed for better reading.
Another thing even more interesting for current readers is a brand new technique that has just increased my ads impressions for about 40%! You may be already using it - but if it is overlooked by you just as it was by me till now it is worth to use!
Moreover some success stories that has happened after reading my eBook may be published soon (still in talk). If you are one of such people I would be glad to publish your success story on my blog! Just contact me.
For those who ask about my next income report. It will be published very soon (one report for last two months as I am late with my last one...). Thanks for reading - comments and questions as always are welcome!