Update #2: My eBook has been released! You may get it from this link "Make Money on Android". Comments to this post has been closed!
Old post: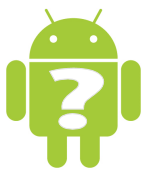 In most of my posts I am just sharing information about Android, my online income and Android market revenue. I am giving you a lot of information. As some of you have sad in your comments some are inspiring and some are just useful. This post is other than the rest. This time you won't learn anything new. This time I will ask you about something. But I will give you something in return as well. I will give you free copies of my new ebook about making money with Android (with free apps!).
So what I want from you? I will want you to ask me a questions (in the comments to this post - so do not forget to give me your email) about building income with free applications for Android. In return I will give 3 copies of my ebook about building my Android market revenue to authors of first three questions that I will decide to be included in the ebook! (one copy to one person, multiple questions allowed - I will pick the best ones).
My ebook is almost ready and I will give three free copies as soon as it will be finished. For others that won't be so lucky to have their questions included or to those that just want the ebook about building passive income stream with Android free apps without asking any questions - it will be available very soon via this blog.
As soon as the contest will be finished or the ebook available - I will announce it as an update to this blog post. So give me your questions now (please)!
Update 25.02.2011:
Questions that has been answered in the eBook (or described in the comment and with annotation about it as an answer):
How much time it take to support the users of your free apps in a month? (by lexandro)
How much time it take to maintain/improve your existing apps in a month? (by lexandro)
What is the maximum amount of apps that can be maintained/and supported by one person? (by lexandro)
What is the average time when you turn an idea to the product? (by lexandro)
What advertising tools/platforms/socials/etc used to increase the popularity (and income) of your apps? (by lexandro)
In terms of integrating ads in to a free product, what are the different ways of going about it and what seems to work well? I've noticed certain games try to put ads in places you're likely to click accidentally, this strikes me as a good way of annoying users and advertisers (by Curious)
What is your strategy about updates? 1 or 2 in month are good? (by Paweł Białecki)
Where to look for ideas for new apps? Should we try to solve some points or think of new games? What works best? Solving a problem or fun apps? (by App Junkie)
How much time is need to write your first app?  (by rg)
How much knowledge or programming experience is needed to write your first app?  (by rg)
Do any of your apps failed so much that you gave it up? (by David Erosa)
How does one go about the process of discovering what products have the highest likelihood of being downloaded and generating income? (by Matt Urbanski)
How much time do you spend learning new things that aren't directly connected with your current apps…but might be at some point?! (by Alistair Collins)
How can you provide in-app purchases to increase profits and side-step Android's new in-app business model? (by Royce Haynes)
How do you measure the amount of active users? (by Royce Haynes)
Do you conduct a research on existing applications which in likelihood may be the same as what you are planning to build? (by Angelo)
How much Ads can be included in the Free version of the App.
(It should have say more than 1 strip of Ads at bottom or top, or Can have 2 strips, More Ads might tick a user off) (by Vineet Dhanawat)
How much time did you spend to learn the android API ? (by LazVegaz)
Are your android apps fresh ideas or do you improve existing popular apps. In other words, how do you cast good ideas ? (by LazVegaz)
How do you track user downloads given that Dev Console does not update real time? With minimal additions to your code? (by Redxeth)
How do you determine if your new app idea is worth pursuing? Do you perform market research after coming up with an idea, or do you research the market to find good ideas? (by BJCubsfan)
Developing new apps vs. maintain existing apps. – what is more profitable: to provide constants updates for existing apps or to use this effort to build new apps. (by Peter)
According to our little contest free eBook copies will go to:
lexandro
Curious
Paweł Bielecki
I will contact you guys very soon!