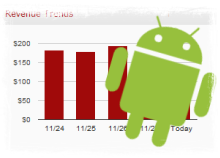 Goal reached! My regular income still seems to grow. My lastly introduced in my "Make Money on Android" eBook method seems to be working very well (not only for me - check lastly published success story and comments). As you will see in the numbers I have no reason to complain. My current income generated online lets me to live in my country quite comfortably. Lastly most of my work time has been spent on Android Development. Preparing updates and some new software in preparation. Moreover I have found great way of increasing my productivity. Read this post further for more details.
Productivity boost method...?
As I have mentioned on the beginning I have increased my productivity last days. How have I achieved it? I have done one step I have been unsure for a months. I have bought an Android Tablet! That may not sound like a method for great productivity boost but in my case it was!
Thanks to the tablet I am doing hundreds of small tasks in a meanwhile. I am no longer loosing hours to check all news, tweets, reply questions asked via email or Facebook! Tablet is a way more comfortable than notebook or smartphone. Working on tablet is not so annoying as it may be on your phone. It has bigger comfortable screen and a way better web browser. Moreover it may be used anytime in a seconds (much easier than booting and using notebook).
I can work when I am boiling water in kitchen, watching TV or just waiting for something... 10 minutes here, 20 there and it makes all small task done in a meanwhile. It gives me a lot more time for development and harder tasks when I am at desktop computer. I am no more losing time for small tasks.
When you buy an Android Tablet - there is no way back. Just like with your first smartphone! So if you are still unsure I can say you only one. Go for it! You will not regret! And just if you are curious - Android Tablet of my choice is ARCHOS 80 G9 (Classic Version) with official Honeycomb 3.2 and Android Market support for a great price.
Show me the numbers!
Ok, ok... I know you don't care about my Android Tablet as much as about the numbers. So not to lose any more so precious time and place on my blog - here are my October 2011 income details. In previous month my income was:
[...

Post part no available for public viewing!To view this content please LOG IN.

You may create new account by purchase of
"Make Money on Android" eBook.
...]
Total in October 2011 my income was ...[PLEASE
LOG IN
TO READ]...! Quite nice. Isn't it?
Goal reached!
In my Annual Developer Income Report I have set a goal of making income of ...[PLEASE LOG IN TO READ]... per month! It looks it is the second month with goal reached! The goal was set in August of this year and I have supposed to reach it in next 12 months. But it has already happened! I have doubled my passive online income in 3 months! I am starting to feel really comfortable with this income and feel really great with the thing I gave up my day job over a year ago.
Conclusion...?
My total income has increased and is looking really well. Unfortunately last month all income sources but Android ads are a way lower. There are quite a few reasons. Firstly AdSense - it has been removed from many sites to make them more clean. So I have expected it. Amazon income is almost like usual - it goes up and down each month. I have generated quite a few sales but all of them was rather a cheap items. What am I worried about mostly is iStockphoto. It looks than it will not bring income forever without adding new photos. It needs some maintenance and I will need to give little more time to it. "Make Money on Android" eBook sales depends from you. I hope you will help me to boost this numbers till next month.
So at all I am really happy with my total result. But have to work on diversification of my income. Just to have some more income streams to feel more confident every month and to be sure about stable monthly payout.
As usual all comments are welcome and strongly desired!
PS: Just in case you are not following my brand new Google+ account - check it out. I have just given away a free eBook copy!