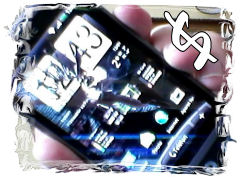 Another month is finished so it is the high time for the summary of my monthly income. Since this post I will be comparing my monthly income accordingly to the previous month. You will be easily seeing increase or decrease of my earnings in each of my income sources. As I have highlighted in my last report (#5) I have mainly focused on Android applications development as it is the most passive (and highest) of my income sources.
I have been focused on...
This month I have been mostly focused on developing one of my new Android applications. It is still not finished. It should be ready till the end of next week. I hope that this application will fill one of the gaps on Android Market just like two of my other very popular applications. If I will fit the demand as I am expecting it should got quite many downloads without too much promotion.
Of course I am still creating only free applications due of two factors. First that I have no any influence too is lack of support for selling Android applications via Android Market for developers from Poland. Second is my strong believe that kind of applications I am creating can make a much more profit in a free version with ads. In future if I will be allowed to sell applications I am planning to add paid version with not much difference but lack of ads.
Show me the money...!
So here is the most interesting part. I think that many of you have not even read previous paragraphs but just scrolled the page to this summary... As it becomes a tradition I will start from lowest income source. This time as I have written on the beginning of this post I will add a difference to the last month. So here is the list:
[...

Post part no available for public viewing!To view this content please LOG IN.

You may create new account by purchase of
"Make Money on Android" eBook.
...]
So last month I have earned ...[PLEASE
LOG IN
TO READ]... It looks that the earnings has been lower than in my previous report. But I think that it is still good as I have not released anything new (I am still working on new applications that are not ready yet). As I have written previously it is a lot more than in my last full time job where I was earning about ...[PLEASE
LOG IN
TO READ]... per month.
What about future plans...?
I am still really satisfied with those numbers but I am working hard to increase it in next months. Currently I have almost finished one of my new Android applications. It should be ready in next week.
Moreover I have hired a talented writer via Freelancer.com to keep my niche blog updated to gain more search engine traffic (he takes $1 per article!).
Another thing that is on my mind is to make a few bucks from iPhone applications development. Unfortunately I am not (an)a (un)happy owner of iPhone nor Mac. So there are two paths I am considering right now:
Buy iPhone and Mac as those are required to install SDK for developing iPhone applications and learn doing it (as I do not know almost anything about iPhone applications development).
Another maybe easier way is to outsource application development via portal like Freelancer.com and making sure that the idea will not be stolen just as described on "How to Make iPhone apps With No Programming Experience ".
Currently I am closer to second path as it would be faster/short term cheaper/easier. But I am still not 100% sure as time and money invested on first path may be more profitable on long run...
Of course as usual comments are welcome and very desired. Don't forget to subscribe to my blog updates to be notified of future reports & posts! You may be interested in my annual income report that should be published next week!