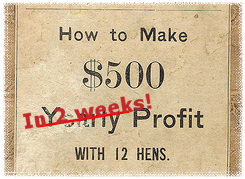 I have received a lot of very positive feedback after publishing my income reports and a lot of questions about details of my money making methods. It is why I have decided to start a series of the posts with quick money making tips. I will try to share at last one method per month (so subscribe for my blog updates for more!). Most of them (if not all) will be methods that may be used by someone that have not done anything similar online and currently have no any experience in making money from the web. Today I will share with all of you one of my very successful methods that I have not been expecting to be so profitable. I have made over $500 in less than two weeks with very low traffic to my blog.
But I have no blog... so it is not for me... ;-(
You are wrong! I had very few visitors just a two months ago! You can start a free blog (I have even written some post about creating blogs some time ago) and if you have interesting topic you can get a huge number of visitors almost instantly! This is how today web is working! Just make sure to write interesting posts and catchy titles and submit it to many popular social media services (Digg, Stumble Upon, HN, Reddit and many more...). If you have something interesting to write - people will want to read it!
So if you have traffic you can make money... right?
You would be surprised but it is not so obvious. I have been making just a few $ per month with AdSense as you need a really huge amount of visitors to make a good CTR and make money with anything just because you have traffic. It is all about way of promoting this what you have. You need to have a good and interesting product or service. You must be sure about its quality and know that it can be useful to your blog readers.
AdSense brings just a few cents per day... and you want $500?
You have a blog. You have some readers that like what you are writing. So... you probably have some good knowledge in your blog main topic. If not you should create blog in niche you really know! So if you know a niche really good you probably have been successful with it and you think that you shouldn't share all knowledge to anyone as people  would be overusing it and it would lose in value...?
Get rid of AdSense and make some real money!
Knowledge is one of most valuable things available online! Not only online but anywhere! Isn't it what teachers in school have been telling you? So if you have this special knowledge  that you don't want to be accessible to anyone but if you share it with just a few of you best friends (blog readers) and by the way make a few bucks it wouldn't hurt you at all...? So create a report or an ebook! Don't forget to promote it on your sidebar and what is the best way of getting attention - mention it in your blog posts (only if it really can fit the post topic).
It worked for me... Why it would not work for you...?
I did it and set special price to my blog readers to as low as $9.95 and much higher to strangers $19.95 (my report is still available in special price for my blog readers right here "PageRank 4 in two weeks?" - sorry but it is no longer available). I have sold over 50 copies in two weeks (Thank you again for a great feedback about my report!). It will make me no difference if all of these people would build high PR websites. But if all of few thousands of my blog visitors would do it - it might hurt my SEO method.
So it is your turn!
Just do it! Stop using pay per click programs! And if you have no blog - create it for free on any blog platform and make some money! But if you think that this method is not good for you - subscribe to my blog to read about more ways of making money online... Any feedback and comments are really desired and appreciated =).