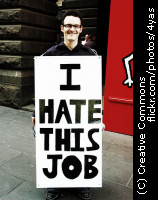 It is over a month ago since I have decided to gave up my day job. According to law we have in Poland I had to stay at work for one full month since first day of the following month (little complicated but it is how it works in Poland). With the end of the February 2010 I will be officially unemployed... But only for one day - till first of March - as I have registered myself as a self employed (created my own one person company).
My income plans...
I have decided to make this big move and make all money online. My two most important sources of income on my little "company" will be website flipping and stock photography. Moreover I have plans to release some software. But I will not tell you more about my ideas for it now as someone might do it before me... :-)
Some knowledge is important...
I have a strong believe and some proofs that I know enough about online business to make more money than in my full time day job. And you know what...? It is a great feeling that now I am my own boss and I do not have to work on crazy ideas of my old boss that have never been worth time involved to it. I wish to my old company all the best, but I do not believe in their long term success...
Who cares...?
Why can you care about my decision...? First I hope you may wish me a good luck... But there is a little more. Since now I will have a lot more time to write on my blog. I know that now I will have to work really hard to be successful and I will write about all my successes and failures. Moreover I will make a monthly reports about my online business  so if you are still unsure about giving up your day job you may get a test drive with me :-).
What's next?
Soon I will write my first monthly report number 0. There will be no any money numbers yet, but I will write about my starting point. Moreover I will be writing about website flipping, software development for money and maybe a little about stock photography. If you are interested subscribe to my blog & wish me a good luck!