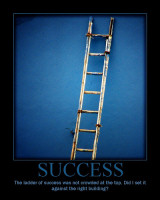 Here it is! My report number 0 - part 2! My first part of report (it was posted here) got too long so I decided to split it into two parts. As most of you already know, this report  won't be about my income, as I have just started my online business. You will need to wait until end of March to get any earnings numbers. Anyway I hope it will be interesting for you and I would very appreciate your feedback in the comments. So let's start my report.
In my online business I am going to benefit from two sources of income. Website flipping and stock photography. I will tell you how have I prepared for the start of my one person "company". Let's begin from the stock photography.
Currently I have submitted to iStockphoto and got accepted 420 stock photos. Such amount of photos may generate nice part of passive income. About monthly benefits I will inform you at the end of the month. My total investment to equipment used to make this photos was:
Digital SLR Camera - Canon EOS400D - about $500
Flash Canon SPEEDLITE 580EX II - about $400
Lens Tamron 28-75 F2.8 - about $400
2 x Studio lights with softboxes - another $400
Corel Paint Shop PRO X - $99
Total cost until now (I do not count computer equipment) was $1799,-
I can get per one photo download (each file can be downloaded unlimited number of times) a commission that can vary from about $0.20 to $8.00 + some extended licenses that are from $20 to few hundreds bucks (very rare).
What about website flipping? As a cost I can count my VPS server fee at KnownHost (most reliable host I have ever used) that is $30. I do not buy websites like for now so I do not count this cost. All websites I am going to flip I have build from scratch so it is only about additional $8 for each domain name at NameCheap. When I sell websites there are a fees for listing and sale on flippa (it may vary from $40 to $100) - where I "get rid" of my websites. For each website (it depends on traffic, money it makes or potential to make money) I can get anything from $200 to $1000. Currently I have 4 operating websites (3 complete with traffic from 100 uniques to 10000 uniques per month and 1 website under development). More I will be able to tell you next month...
Moreover I think I can still can make a few bucks from adsense and affiliate links on my all of these websites.
What is the money I want to make? In my day job I got around $1000 - taxes = $750 (it is not bad for this part of Poland). It is the amount I want to beat. I think that cost involved to stock photography should return in a 3-4 moths...
And what are your opinions? Would $1000 be the money that could make you leave your day job? Do you think that I took a right way for my desired $1000 income...? All feedback is welcome and very desired. So... Please make  you comments now :-)