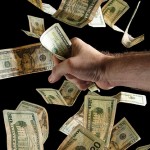 So here it is! My long awaited income report number 1. Over a month ago I have been writing about "Giving up my day job" and provided my income plans (part 2 here). I have promised you to post my income report every month. So now you may read it! My income report number 1! Unfortunately you won't see a huge number in here as I am still building my online business. But I hope to provide you more interesting reports each month :) At least I'll do my best to grow the numbers each month.
Just the beginning...
My first goal is to earn anything over $1000 per month. Like for first month it is not bad - but still not $1000. Anyway I will write more about my next months plans at the end of this post. So let's start with providing my earnings :)
So here is the list...
My list will be build from the biggest to lowest source of income. I do not provide numbers that I have on my bank account but rather reports from stats provided from first to last day of the month. Money will come to me sooner or later :)
iStockphoto - I have sold 202 licenses for my photos - that made me a total of $546.89. Not bad. Over half of my income goal from one website. The rest of list is not looking so good :/
Amazon affiliate program - $12.00 - just a few dollars to buy a two good coffees - but I need coffee everyday :(
PPC income (from my websites, including Google AdSense, InfoLinks and more) - 14,88 € - not much. But always some additional buck.
Affiliate programs (GetAFreelancer, Namecheap) - $2.90 - LOL =)
It is not a huge amount of money. But it was my first month. I do not want to give you too much details - but April is looking much more promising!
What are my plans...?
So as I have written on the begging of this post. What will go next? As my source of income in my previous posts I have been giving you website flipping that is not in the list. Why? Because auctions I have already set are longer than 30 days... First income will come in April.
And what's more...? This month I have published my killer report "PageRank 4 in two weeks?" that is quite popular and get a great feedback. Moreover I have a new web sites...
More to come...
Plus... ups. Sorry I won't be saying about it know as I am still working on this idea and do not need competitors before it is done :). I will report more numbers next month. So bookmark, subscribe or whatever more to visit my blog next month.