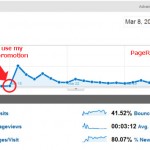 It is a pleasure for me to announce a launch of my first eBook with my report titled "How to improve your website up to Google PageRank 4 in two Weeks!". I have written it based on my own experience and can guarantee you that my method really works. Especially for my blog readers I would like to offer you a $10 discount!
Here are some of first reviews written by members of one of the web forums where I have sold first copies of my report:
If you consider how much you spend on link-packets, auto-submitting to all kinds of directories, blog-networks etc, this eBook price is a steal!
One more:
Is this white-hat? Yes, you bet. This is the one of the most white-hat techniques possible. Much more so, compared to creating forum profiles and blog comments purely for the purpose of getting backlinks.

Is this repeatable? Absolutely. You have to work for it, but it will pay off. And the other part - in my opinon it will not work if you do not provide valuable content on your page.

I am already aware of this method since I started my IM work and I have successfully used it in past to get a PR-5 in a matter of a few hours of active work. Really.

So in my opinion, do not under-estimate this simple method. It can yield seriously good results if (a) you have a good website and (b) you work a bit (not calling a simple check of your account stats as work - as I have found many people to do).
And one more:
this thing costs you less than 2 Starbucks coffees ... so if you've got a great way of getting PR4 (whether real, published or computed, or whatever), then don't bother. Otherwise, drink 2 coffees less, get this ebook and get to work.
I will not write anymore about it as you may read all details on the page I link to from this post. So as I have promised you here is a special discount link for my report "How to improve your website up to Google PageRank 4 in two Weeks!" (sorry but this report is no longer available).