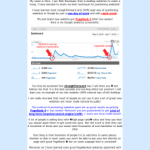 Would you believe that the website that made $500 in 8 days and have a lot more of potential may be for sale? You may be very surprised but it is! I am selling one of my websites that was very popular last days. It made me exactly $509.60 in 8 days (until today it is almost $600). What website is it? It is more than a website as I am selling a full copy/resale right to my report published as an ebook and website that is describing it.
What website???
If you follow my blog regularly most probably you have already guessed. Yes! You are right. I am selling my "PageRank 4 in two weeks?" report I have announced and described in this post.
But tell me why?!
Why am I selling this money maker? I have described it in more details on auction that I have set on flippa. But in a nutshell I sell it because most of my blog readers already have seen it and I do not have enough time to promote it more widely. I have a few big projects going now and it takes all my free time.
One time cash flow is good for me... =)
Moreover I prefer to get a bigger one time money from selling it on flippa than working on promotion of it for a few months (until the end of the auction you still may buy it in super low price $9.95 - not sure about price of new owner).
More about the auction...?
I have set a "Buy it Now" price for $5000 as it will be easy to be make for someone that will work on promoting it. Like for now the auction price is $200 and 15 potential buyers are watching it. If you are looking for a website that can make you a nice online income you are welcome to bid on my auction.
If you need any income proof I have attached a PayPal payments screenshots to the auction. If you will have any more questions you may ask it here or at flippa.
Big thanks!
I would like to thank to all of you who already spent this few bucks to buy my report and for all your great feedback. It makes me motivated to work more and maybe release more interesting reports in future. Really big thanks to all of you guys and galls! You are awesome!