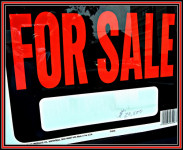 You have a website you want to get rid of? This post is just a fast pointer to best ways of selling your website. I will not go into deep details and won't make a screenshots of all web forms you need to fill as I know you are not a dump person (or you would not have a website for sale...). If you are interested in my post, most probably you have build a website that you have no time to maintain anymore. First of all if your website have some reasonable traffic then I may be interested in buying it :D (just in case you may contact me). But I do not have thousands of dollars to buy every site available for sale on the internet so you may be interested in more places to do it :). So please continue reading...
Hundreds of places... What to choose...?
There are only two places I would truly recommend for selling a website. It depends what kind of transaction you want to make. Of course there are hundreds of other websites but I would not used it by my own... (sorry for other website owners but it is just my personal opinion).
DigitalPoint Forums
If you want to sell your website without paying any commission and you do not need any backend that would help you to make your listing and care on after sale process (payment or any disputes between you  and your client). You may be interested in DigitalPoint forum. If you have been writing on any web forum before - this one is no different. You make a post with you website description and you are waiting for bids from clients. Just make sure that your description follow these guidelines. Moreover they require from you to be a member for at least 14 days, do not have a reputation in the red and have a minimum of 25 posts throughout their boards.
Flippa
Another place that (I like it more than DigitalPoint and I truly recommend) is Flippa (old SitePoint MarketPlace). Unfortunately they will charge you a commission for listing and selling website. But it is much more organized and easier way of selling website. It works just like eBay but it is designed just for selling websites. You make your own auction with description and it is listed on their website and available for bids from clients. Moreover they would care about some parts of payments and disputes (if you use their website to communicate with clients). In case you would be interested in my current websites for sale listing here it is.
I trust them... You should too :)
Both of mentioned websites are really good choice for selling your website. I would recommend them most from other MarketPlaces available in the Internet as you really can trust them (they are long established websites).
If you have any question about buying/selling websites please use the comments section. I will reply to everyone with a reasonable problem :).