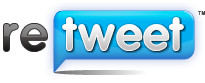 Some of you have already doubted that website flipping can still be profitable. It looks that it can make you much more than just for a living. Team of web developers have decided to build website and never monetize it but sell for real big profit!
"We have never tried to monetize Retweet as it was built from the beginning to be acquired.  We are a team built primarily of developers, not salesmen."

They have build a website on a great domain "retweet.com" that is a guarantee of success. Retweet.com has became a serious competitor of Tweetmeme that finds most popular urls on twitter. Retweet.com have been build with it's own WordPress plugin and url shortener.
Retweet.com website is getting around 12,000,000 unique vistors per month with 12,000,000 page views and has a pagerank of 5. It have been sold on flippa listing with "buy it now" offer for $250,000! You may see a listing of this website right here. So you say there is no money in website flipping... huh?