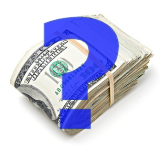 I know that many of my blog readers have subscribed my RSS Feed only for my monthly income reports. And as I want to make you happy here is my report from last month. April have ended over two weeks ago and now I am ready to sum everything and provide you my money making details. I hope it will inspire some of you to try your skills in making money from independent web & software development. I know that at all it is not much for most of you but it is still my beginning and I am hardly working to increase my income - I will write about it more at the end of the post.
So my goal was...
As I have been writing previously my first income goal to achieve to be satisfied from leaving my full time job was to make more than $1000.00 monthly. In march I have not passed this amount but I was pretty satisfied as it was a real beginning. I have been working really hard to increase my income. Most time I have spent to increase a long term passive income that is not providing immediate money flow. So as I wanted to pass $1000.00 I have been working on one time money makers as well (for ex. website flipping).
Gimme numbers!
I do not want to make you unsure any more. So here are the numbers. This time list will start from lowest income source and end with the highest.
[sc:notregistered]
It looks that in total I made [sc:notregshort] my previous month income! Unfortunately I still need to pay tax, health insurance, server, flippa and PayPal fees and a few more. But even then I made a much more than $1000.00 of my income goal! A lot of this is thanks to support of all of you - so as usual I would like to say to all of you a big THANK YOU!
What are my plans...?
So what are my future plans...? I will not be too active in website flipping as it takes a lot of time and is a one time income. I will try to work more on my passive income sources. Currently I have just developed my frist free Android application "WP Stats" for reading traffic stats from "WordPress.com Stats" plugin. I have put in it a small ad banner from Ad Mob (just like Ad Sense for mobile devices). Unfortunately in a few days I made only a few cents - but I still believe that it will bring real money after getting more popular. In my long term plan I want to make most income from ads on web pages and in my software plus still generate some money from stock photography... If you want to be updated about my success (or failure...) don't forget to subscribe to my blog updates =)