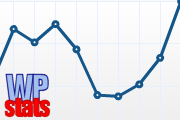 I have been writing in some of my previous posts that I am learning to program for Android based phones. After many very long days of reading, learning and programming I am ready to anounce that I have finished and published my first Android application! And the best is that it may be really useful! My new app "WP Stats" can become one of the most used tools by bloggers who have Android based phone.
You may ask why? Because everyone loves to know what is happening with their blog! My little app let you to check your live WordPress traffic stats collected by "WordPress.com Stats" plugin with a touch of the screen. It is extremely fast and easy to use! Moreover application is 100% free to download and use. I am already addicted of using it as I check my stats a few times a day!
You can get it from Android Market right now. After installation all you need to do is to provide your WordPress.com API key and your blog url! And that is all! It will let you to load your traffic stats without even providing your WordPress username nor password! I have developed it because I knew that I will use it really frequently. I hope that this little tool will be as useful for you as is for me. I would love to hear all your feedback and comments. If you have any ideas about improving my Android app I would love to hear them all!
For more details, screenshots and to be updated about "WP Stats" development you may visit its development page.