If you have not noticed it yet on Android Market developers console a strange notification has appeared and is visible since a few hours. If you are registered Android developer you may read on your console following message:
"Sections of the site may be unavailable due to scheduled maintenance. You may view your list of apps and error reports."
Here is a screenshot with mentioned message: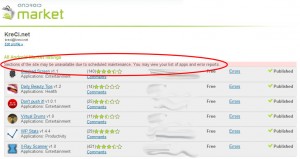 They say about possible errors but I have not found any. Everything looks to be working smooth. There is no any info on official Android Developers blog.
Is it a forecast of some new features...? Most probably we will know it in a next few hours...
UPDATE 2010-07-20: It looks that the message has disappeared and there are no any new features...
UPDATE 2010-07-24: It looks that they were preparing for some new payment options... But changes are still not visible - post about it here.