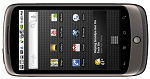 If you want to grab a Google Nexus One phone it is the last chance! As most of you may know (most of people interested in Android), Google has announced that they are no longer going to sell their awesome Nexus One phone (after they sell out). So if you want to have a phone that always gets latest Android updates almost immediately after release you should consider buying it right now.
Of course it is not a total end of the phone as Google is not going to stop cellular operators from selling this great device. Moreover this phone is announced to be available as a developers phone (after registration as an Android developer).
Unfortunately it has never been available in most countries other than US. Not sure if same limitations apply to developers version (like for now - I am registered developer from Poland and still can not buy it).
But even if you are outside of US there is a last chance... or at least two chances. You may still buy the phone from second hand on eBay or use a service that will buy it for you from Google and ship to your country (like Shipito).
I would really consider buying this phone if I would not have a brand new HTC Desire...