Do you want to be up to date with everything that is going on twitter? Do you spend hours on refreshing your twitter home instead of doing something other that you should? There is a great workaround to be up to date and not loose a lot of time on refreshing twitter webpage! You can very easily make a nice notification popup next to your clock on the tray! Here is an example:
Please continue reading for a step by step guide.
1. Download Miranda-IM multi communicator
First you will need to download a Miranda-IM (latest version is available here). It is multi communicator. You may setup it for dozen of protocols you use like MSN, ICQ, IRC and many, many more... Miranda is very lightweight, so if you don't need anything more you can use it just for a twitter. It really won't take any noticeable part of your computer resources.
2. Install Miranda-IM
It should be very easy. Just run a downloaded file and follow instructions. Please remember the path that you will choose for the installation as you will need it soon.
3. Download Miranda-twitter plugin
You can download this plugin right from here. Please choose the latest version of first file on the list. Currently it is  "twitter-0.0.8.4.zip".
4. Unzip downloaded plugin.
Now you should extract downloaded plugin. In you Windows system you can just double click on the file to see it's contents. You should copy extracted "twitter.dll" file to "Plugins" subfolder in your Miranda-IM folder (path as set in step 2).
5. Download and install YAPP Miranda plugin
Install it same way as twitter plugin. Download (from here), unzip and copy to plugins folder in your Miranda-IM installation.
6. Start Miranda-IM and enable your plugins
Usually Miranda-IM plugins are enabled by default after being copied to plugin subfolder. But you may make sure by clicking:

>Options > Plugins
Window should be similar to this one: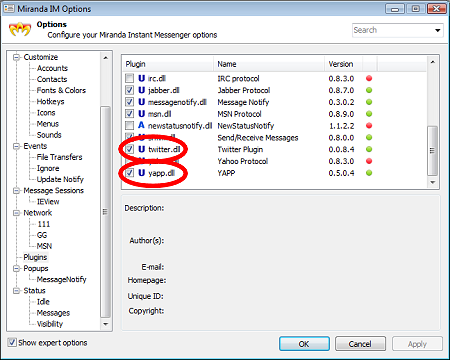 Make sure that "twitter.dll" and "yapp.dll" plugins are checked.
7. Set up your twitter account
Now you need to provide your twitter login details. To do it click:
> Accounts > +
Enter your twitter account name, choose protocol (twitter) and again your account name. You are almost done! Click OK and again OK.
Now you should click:
> Options > Network > YOUR-TWITTER-ACCOUNT-NAME
Fill this screen with your twitter login and password and click on "Popups" tab: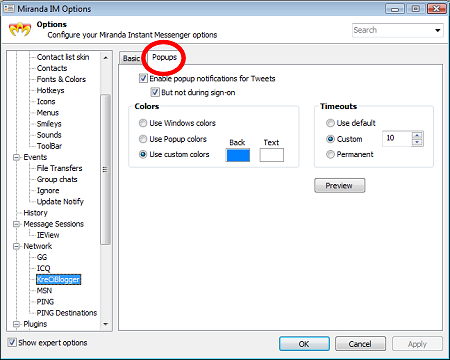 Make all settings in this tab as on the screenshot above. And click OK.
Congratulations! You are done!
Since now when you run Miranda-IM you have:
All people you follow on twitter visible on your contact list,
Easy way to send direct messages,
Great looking geeky freaky popups with tweets from all you friends,
Possibility to check your friends last tweets by entering to chat history,
Possibility to make tweets directly from your tray (as on screenshot below)!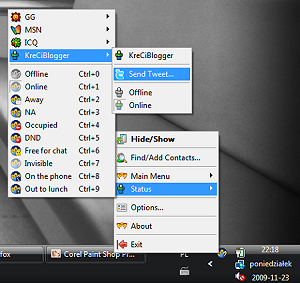 Do you have any problems, question or just some comments? Please leave a reply below. My next post will be about making a tweet from any Java enable mobile phone. So please come back soon... :) Don't forget to follow me on twitter for updates.