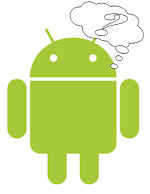 Some big changes are coming. As most of you could notice there was no Income Report on my blog since the beginning of the year. There are many reasons that have stopped me from publishing my total money income on monthly basis. But the most important is that it have created many "copy&paste" followers without their own ideas. It is really sad that so many people prefer to steal the idea, graphics, descriptions and make just a few bucks with some unpopular copy. In most cases it does not give them real profit, but tens of copies of my apps on the market are not comfortable for me. If they would think just a little, they could make some unique and really profitable apps. But for many developers it looks easier to copy everything. They are able to copy so they could produce some awesome apps (as they have enough knowledge to build an app). But thinking seems to painful for them. That's just the reason that has unmotivated me from showing all of the money income sources directly.
Still learning...
Last months I have learned a lot about those guys. Some of their apps have been removed by Google from Google Play (Android Market). In some cases Google has asked me about further documents and warrants. Anyway it looks that Google is on the light side of the force. But the best way to make money in the development is to keep working on your new profitable projects. I have decided to deal with brainless copy guys and keep building new income sources.
But changes are coming...
That's all about reasons... Meantime I had enough time to rethink how this blog should look like to keep away most of the easy money lovers. I do not want to post all of my income breakdown as it brings too much wrong people here. So there will be no more public breakdown of my month by month earnings. But... I will keep posting my total from Mobile Development and "The Rest" without further details. You may expect progress reports with such info and other interesting news about my current development plans and ideas.
But there will be more!
More detailed breakdown will be available in the restricted password accessed area of my blog. From last few weeks each of my eBook buyers has been asked to register with login/password to download the eBook. Same login data gives them access to my restricted area that will have more detailed breakdowns, tips and forum to ask sensitive questions that I do not want to reply in the blog comments (all of this is in preparation). If you have bought the eBook before login system has been created please contact me with your transaction ID (via contact form) and I will assign you a one. Of course from now on each purchase gives you access to that area. Currently there is only eBook download link but all will be posted in the coming weeks (with info on the public part of the blog).
Hurry up!
Another thing that will be coming in the next weeks is the big update of the "Make Money on Android" eBook. I am preparing some valuable information that will be added to the eBook (and updated of course). Current eBook price is $19.99. That gives you access to the restricted area and all updates of the eBook lifetime! After update the price of the eBook will go to $29.99 (the restricted area should be ready till then). New information that will be included has multiplied my current income.
Any more changes...?
There will be one more change. More frequent updates of this blog. In my business model a lot has changed in the last months. As for some examples that will be extended in my future posts: Admob eCPM has dropped almost about 50% since the last year. Fortunately there are many other monetization methods. I will need to break some taboo soon and post more details of making money with programs like LeadBolt that is giving me a triple (yea - I mean 3X) of daily income from the Admob. But it is not the only income source...
Want more? Keep following my blog and I am sure that you can benefit from it! Comments as usual are welcome and strongly desired!