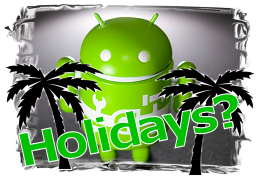 If you are curious why this report number is double numbered it is because I have missed one. So this time there will be two months in one report (of course numbers will be separated). So this time it will be easier to all of you to compare two months. Unfortunately it looks that there was some slowdown as it is the holidays season. But it started to look better last month (at least for Android revenue). If you want to compare those reports with my previous one you may want to check my archive.
Moreover it looks that I have a small anniversary here as it is over a year since I have published my first income report! My first target has been reached as I am constantly making over $1000 per month. Of course all wishes and gifts are welcomed. You may expect a summary of my first year in the on-line business next week - stay tuned!
I got little lazy lastly as all my applications are constantly making quite a nice revenue. This month I want to break it by publishing new application and finishing some other of my projects. I hope that I will be able to close all of my currently ongoing ideas. One of things that is making me even more lazy is that I have discovered one small trick that increased my ads impressions for about 40%! If you are curious I have updated my eBook with this trick (I can not guarantee you that you are not using it already - but I have overlooked this method until this month).
So here is the part that most of you like the most. The numbers. This time as written before it will be two months income (June & July).
June Income Summary
[sc:notregistered]
Total income in June is [sc:notregshort] It looks that the beginning of the summer is very bad period for any other business than selling ice creams... All numbers are red (is the world crisis going online?).
July Income Summary
[sc:notregistered]
Total July income is [sc:notregshort]. It looks that my income is coming back to "normal". Moreover it started to grow on current month - but you won't see it until my next report.
Final thoughts...?
As you may see there are still some ups and downs. I was very disappointed on June but it was my fault as well. Most of my income is passive but it need some "push" to stay on a good level. In June I have not been spending as much time at the computer and the effect is quite visible. Fortunately July is coming back to the normal.
Moreover as I have written previously it is over one year since my first income report! So you may expect a summary with some graphs and my personal analysis of the last year. If you are interested in my yearly income since leaving my day job - subscribe my RSS, twitter or Facebook to not miss my next post!